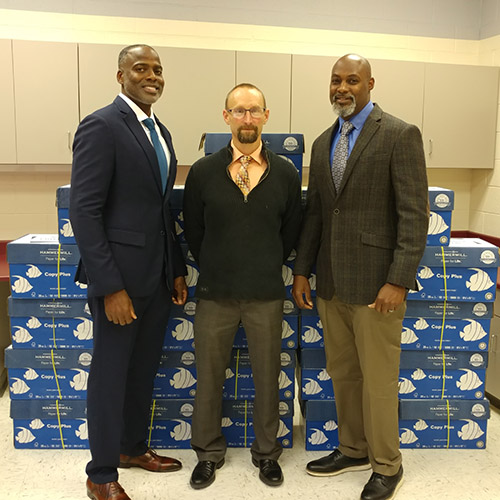 Gates County Community Partnership donated 125,000 sheets of copy paper to Gates County High School through its "Pupil Provision Project."
The "Pupil Provision Project" is a subset of the Gates County Community Partnership that focuses on the donation of tangible items to local schools.
"We figured the paper donation was a good way to start because we recognize the considerable need to copy instructional materials in today's educational climate," said Gates County Community Partnership member Benjamin C. Saunders, Jr.
Gates County receives supplemental funding from the state due to its designation as "low wealth" and "small county." Per the "Highlights of the North Carolina Public School Budget", dated February 2018, Gates County collected an additional $1,411 per child for FY 2017 – 2018 because of its below average ability to generate local revenue per student. Less than 5% of those funds went towards textbooks, supplies, and materials.
"We are grateful to Gates County Community Partnership for their support," said Gates County High School Principal Jonathan Hayes. "This donation will have a positive impact on our teachers and their ability to provide curriculum materials to our students."
Gates County Community Partnership is a newly formed non-profit organization whose mission is to inspire and increase community engagement by the citizens of Gates County for the educational and social development of its youth. The association was started by Sherley Lee Jones, Jr., Benjamin C. Saunders, Jr., Brian Keith Rountree, and Michael Gatling, each born and raised in Gates County.
"An educational and social investment in our youth will yield a positive net gain for our future. Being prudent will pay dividends for our students, community, and economy," said Rountree.
Although members of the organization are working hard to give back to the Gates County community, most of them are no longer residents of the area. Jones lives in Virginia, Saunders in Maryland and Gatling in Alaska.
"We know we can only do so much because we are not local," said Saunders. "Our goal is to inspire others within Gates County to do similar activities. Organized group efforts tend to produce superior results."
Jones emphasized the potential of Gates County students to become significant figures in science, technology, engineering, math, and other professions with the help of sound educational endeavors and active community support locally.
"Our youth will be empowered and inspired to not just succeed in life, they will excel."