By Cal Bryant
Editor, Gates County Index
GATESVILLE – As he did while still walking among us, Benjamin Saunders, Sr. is still making headlines.
Saunders, who spent 40 years in Gates County Public Schools – first as a science and math teacher, then as principal of T.S. Cooper Elementary School – has posthumously received the highest honor in North Carolina and is now an inductee of The Order of the Long Leaf Pine Society.
The honor was granted by Governor Roy Cooper in acknowledgement of Saunders' contributions to the state and his community through exemplary service and exceptional accomplishments.
It was officially awarded on June 12 at an event held in his memory – Benjamin C. Saunders, Sr. Community Day – at Gates County High School. It's in the field of education where his legacy remains alive and well.
In 2018, Saunders endorsed, and lent his name, to a collaborative partnership between Gates County Schools and Morehead Planetarium and Science Center in support of a new STEM enrichment program.
The Saunders Science Scholars program provides resources and events to the Gates County Schools community, in particular middle school students and their families, to explore science in a meaningful way. Each month, students and an adult from their household meet with a Morehead educator to do science activities, discuss ways to connect through science, participate in special events (like speaker engagements and field trips) and more.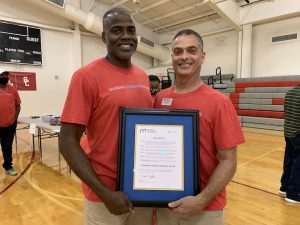 His passion for education also lives on at his alma matter, Elizabeth City State University, where he and his wife endowed the "Benjamin C. Saunders, Sr. and Aileene M. Saunders Scholarship of Excellence."
At the June 12 event, Dr. Crystal Harden, Director of Program and Inclusion Initiatives at Morehead, noted it was a "great way to honor a great man."
"He loved his community," she added. "We mourned his death in November (2020) but in June, we celebrate him."
The Community Day event featured competitive games set within a learning environment. Prizes were awarded to the winners. Food trucks were on hand as were booths staffed by community partners.
Harden praised the Gates County community for coming together to sponsor the event. She thanked Gates County Schools, the exhibitors, and the Saunders Science Scholars volunteers.
She signaled out the core group of Saunders Science Scholars who started on the ground floor of the program upon entering the sixth grade at Central Middle School.
"Ya'll are now rising ninth graders," Harden noted. "We are so proud of what you have accomplished in three short years. We have high expectations of each of you as your journey continues."
Dr. Todd Boyette, Director of the Morehead Planetarium and Science Center in Chapel Hill, said he and his staff remain appreciative of the efforts of the Saunders family for their continued love and support of the Science Scholars program.
"In November when we lost Benjamin Saunders, Sr. we were separated by the miles between Chapel Hill and Gates County as well as a medical pandemic," he observed. "We were living a socially distanced life, so we looked at what was in our control to honor the life and legacy of this great man. We approved a proclamation at that time which established June 20, 2021 – Father's Day – as Benjamin C. Saunders, Sr. Day at the planetarium."
As it turned out, that proclamation was just part of what the staff at Morehead Planetarium and Science Center wanted to do to honor their late colleague.
Harden explained the original plan included the Community Day – as held on Saturday.
"Todd had a different idea; he said if we're going to do something, lets do something big," Harden said.
The "big plan" turned out to be contacting Governor Cooper's office to see if they would consider Saunders, Sr. as a candidate for inclusion into The Order of the Long Leaf Pine Society.
"However, under most circumstances, this award is not given posthumously," Harden remarked. "We went for it anyway and were blessed to have three glowing letters of recommendation written in support of our efforts."
One week later, the Governor's office responded, saying Cooper had approved the request.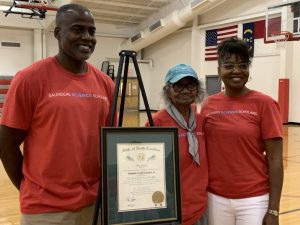 "This is the highest honor a North Carolina citizen can receive for state service," Harden explained. "(Saunders) always talked about having stars in your crown. I now believe he has one of the biggest stars in his crown as a recipient of this award. He's on a very select list of recipients."
Benjamin C. Saunders, Jr. – President of Gates County Community Partnership that supports the Science Scholars program named for his late father as well as other educational projects – spoke on behalf of the family.
"My family and myself are beyond grateful," he said, thanking Gates County Schools, Morehead Planetarium and Science Center, the citizens of Gates County, and the Office of North Carolina Gov. Roy Cooper for bestowing such an esteem honor on his late father.
"If you knew my father, you knew his infatuation with plaques," Saunders, Jr. said with a laugh. "It did not matter what they were for, but this one is different. This one is the crown jewel. Dad deserves this honor. It recognizes his work for Gates County and the measure of the love he had for his home."
His son pointed out how his father looked at life, how he carried himself, and what he represented during his time on earth.
"He would say, do better, be better, empathize, serve, learn from one another, and love each other," Saunders, Jr. said. "In summary, just live your life to be a blessing, that is the pathway to peace."
To learn more about the Saunders Science Scholars program, visit moreheadplanetarium.org/saunders.