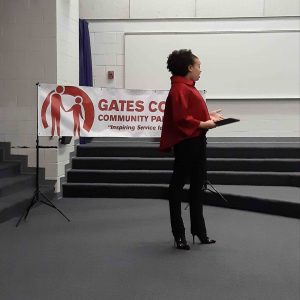 "I had the privilege to come out to Gates County Community Partnership's event to learn about Financial Planning. The speaker was awesome and people need to hear her," emphasized community member Terri Boatwright. "What was taught in this program will help set you on your way to starting your own businesses, learning about financial wealth and planning for yourself."
On Saturday, February 1, 2020, Gates County Community Partnership presented a free Financial Literacy Workshop to Gates County at its high school. The keynote speaker, Tiffany Eubanks, Managing Director for Bank of America, outlined the importance of creating a financial plan that is realistic and based on personal short-term and long-term goals.  She impressed upon the audience that it is never too late to begin creating wealth and provided manageable practices that everyone can put into place. "Everyone should set aside funds equal to at least three months of your normal living expenses, pay off credit card debt, set aside savings for large expenses, directly draft savings from your paycheck and be disciplined by making regular deposits into investment accounts," stated Ms. Eubanks. A highlight was the discussion on college loan debt. She emphasized it is imperative to be smart when funding post-secondary education as the "best" university may not be the best for you. "It rarely makes sense to take on a large amount of debt for college when lower cost options are accessible."
"This was a very successful meeting. People need to be aware of what is going on as far as money management. Everybody teaches you how to make money, but no one tells you how to manage it after you make it," stated community member Vincent Riddick.
"We were excited about the opportunity to bring this important dialogue to the Gates County community and are pleased by the tremendous response from those who attended," said Brian Rountree, Director of Gates County Community Partnership. "We would like to thank Ms. Eubanks for bringing a powerful and inspiring message and our local institutions, First Citizens Bank and Southern Bank for participating. It means a great deal to us that they chose to take time out of their weekend to serve Gates County and assist our organization."
This was just the first program in what Gates County Community Partnership hopes will be a value-added series for this community. Simply stated by attendee Daniel Bowser, "The workshop was very informative!"
Gates County Community Partnership is a 501(c)(3) public charity whose mission is to inspire and increase community engagement by the citizens of Gates County for the educational and social development of its youth.