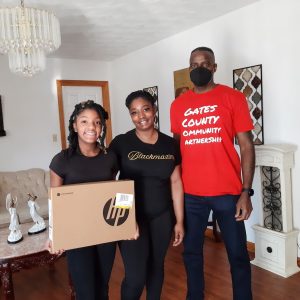 Gates County Community Partnership (GCCP) recently donated Chromebooks to students at Central Middle School and Gates County High School as part of Phase 1 of "The Access Initiative." The intent of the initiative is to boost access to modern technology that fosters educational advancement. Phase 1 of the program helps address the digital divide by presenting eligible families with video conference capable computers loaded with applications used by Gates County Schools to educate its students.
"This need is not a new one. Realization was amplified by the current state the world is in dealing with the COVID-19 pandemic. Everything is virtual and most feel that the new normal will stress remote access to learning," stated Sherley Jones, Director, Gates County Community Partnership. "We are obligated to do what we can to make sure that our students have the tools needed to succeed in this environment. It was a blessing to be able to provide a brand-new computer to every family that applied."
Per the British Broadcasting Corporation (BBC), the gap between those who have the latest technology and those who do not is referred to as the "digital divide." It is distinguished by the lack of broadband internet access and reliable devices that supplement. Because of fewer resources, communities in Northeastern North Carolina are less likely to have dependable internet and computers than urban areas. Modern infrastructure and adequate devices are now required to improve the economic standing of a constituency.
GCCP recognizes how important technology is for equitable access in rural communities. Previously, the organization donated Chromebooks to the 30 core participants of the Saunders Science Scholars program and other children of Gates County Schools. "It's all about receiving knowledge and providing opportunity. These level the playing field and inspire our students to achieve their potential," emphasized Benjamin C. Saunders, Jr., President, Gates County Community Partnership.
"We sincerely appreciate Gates County Schools and the local community for helping us with this project. Without their assistance, none of this would have been possible," stated Brian Rountree, Vice President, Gates County Community Partnership. "We would also like to thank our generous donors, who empower us to engage in these types of projects. Your faith in us to act responsibly for the betterment of Gates County matters more than words can express."
"Saunders Science Scholars" is a unique partnership between Gates County Schools, Gates County Community Partnership and Morehead Planetarium and Science Center that helps students discover science in new and exciting ways through hands-on exploration.
Gates County Community Partnership is a 501(c)(3) tax exempt public charity whose mission is to inspire and increase community engagement by the citizens of Gates County for the educational and social development of its youth. For more information, see www.gatescountycp.org.