The Dominion Energy Charitable Foundation recently awarded Gates County Community Partnership $2,500 to refurbish horseshoe pits, walking trail bridges, and the bocce ball court at the Gates County Community Center. The foundation's "Employees in Action" initiative, which supports company employees as they lead volunteer projects, provided the grant. Winnie Wade, of Dominion Energy, encouraged the Partnership to submit the grant application and shared, "Volunteering allows Dominion Energy to connect with the communities we serve to make them better places."
"The Gates County Community Center is beyond thrilled to have the support of so many people, organizations, and businesses in our community and surrounding areas. Providing our citizens with numerous quality recreational opportunities is something we strive to do day in and day out and we value and appreciate those entities that help us make that happen," said E. Norris Raby, Jr., Director, Gates County Community Center.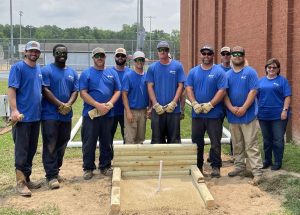 Gates County Community Partnership is a 501(c)(3) organization that believes organized collaboration is paramount to improving circumstance. Raby emphasized Dominion Energy and Gates County Community Partnership went above and beyond to ensure the materials necessary for repairs and renovations were up to the standards they aim to provide. He thanks both organizations for their efforts.
"We are grateful for the opportunity presented to assist the community center," stated Benjamin Saunders, Jr., President, Gates County Community Partnership. "Thank you, Dominion Energy, for thinking of Gates in your efforts to support the locations you serve. We are looking forward to our next collaboration."
Headquartered in Richmond, Virginia, Dominion Energy employs over 17,000 people in 16 states, providing reliable, affordable, clean energy to nearly 7 million customers. They are a leader in the clean energy transition, with a clear strategy to achieve Net Zero carbon and methane emissions.
Dominion's charitable foundation awards grants in four focus areas: human needs, environmental stewardship, education, and community vitality.