Gates County Community Partnership (GCCP) recently made another donation to the Navy National Defense Cadet Corps (NNDCC) of Gates County High School. In 2021, the organization sponsored a trip for the cadets to Nauticus/USS Wisconsin in Norfolk, Virginia.
A goal is for the cadets to experience career fields that are available to them within the Armed Services and the civilian sector of the federal government. Upcoming plans include a visit to a Landing Helicopter Dock (LHD) amphibious assault ship, Nauticus/USS Wisconsin, Joint Expeditionary Base–Little Creek, Fort Bragg, and our nation's capital, Washington, DC.
"The military offers technical training in a variety of career fields and also supports development activities," stated Sherley Jones, Jr., Director, Gates County Community Partnership. "I am pro-military, as it provided me with unimaginable opportunities for growth and service. I was able to retire from the US Air Force at the rank of Chief Master Sergeant with two college degrees."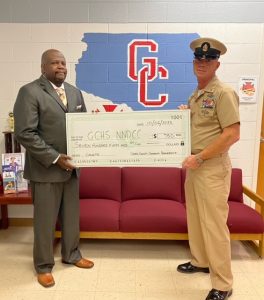 Other planned events for the cadets include a Veterans Day Dinner, the NNDCC Military Ball, and the presentation of colors at three Norfolk Admirals Hockey games.
"The Navy National Defense Cadet Corps program at Gates County High School has been phenomenal for our students and our community. It teaches courage, self-control, character, fidelity, and perseverance. Participants are also encouraged to develop their passions, as these are important for life-long success and the ability to give back," emphasized Brian Rountree, Vice President, Gates County Community Partnership.
The Navy National Defense Cadet Corps is funded by Gates County, with no financial support from the US Navy. The NNDCC is actively fundraising to help cover the cost of uniforms, field trips, and other expenses that will enrich the cadet experience. To donate to the program, contact Gates County High School at 252-357-0720.
"It is my sincere desire that our cadets learn leadership, teamwork, empathy for others, self-discipline, and become informed citizens," stated Chief John Howard, Naval Science Instructor, Gates County High School. "I also hope that through a total partnership with the families, school, and the community we can enrich each young person's life and aid in their future successes."
Gates County Community Partnership is a 501(c)(3) public charity whose mission is to inspire and increase community engagement by the citizens of Gates County for the educational and social development of its youth.