The Saunders Science Scholars are pleased to invite county residents to "Saturdays of Science!" This year's theme is "Outer Space & More." The program is free and open to the public, with a target audience of elementary school students and their families. Events are fun-filled, with experiments, crafts, virtual reality, giveaways, and more!
"This is our second year delivering this program to Gates County. We are about 'expanding possibilities' and want to engage local students in STEM at an early age to encourage a love of science," said Dr. Crystal Harden, Director of Program and Inclusion Initiatives, Morehead Planetarium and Science Center. "'Saturdays of Science' also gives our Saunders Science Scholars the opportunity to sow back into their community. This is something that we advocate and require for our Scholars."
The Saunders Science Scholars program began in 2018 with a cohort 6th graders. There are now two cohorts of 9th and 10th graders. The model of the program was recently adapted to allow Scholars to lead science enrichment activities for their community. An objective is to continue the cycle of educational uplift.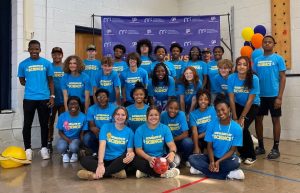 This year's first "Saturday of Science" took place on October 15, 2022 at Buckland Elementary School. The remaining events are November 12, 2022 at Gatesville Elementary School, December 10, 2022 at T. S. Cooper Elementary School, February 11, 2023 at Buckland Elementary School, March 11, 2023 at Gatesville Elementary School, and April 8, 2023 at T. S. Cooper Elementary School. On November 12th, PBS North Carolina will be on location.
"Exposure and mentorship matters! With this, the Saunders Science Scholars are reaching new heights," stated Brian Rountree, Vice President of Gates County Community Partnership. "We will continue to support this program because we value what it brings to our schools and citizens. It has been a catalyst for things that make Gates County better."
The Saunders Science Scholars program was named in honor of Benjamin C. Saunders, Sr., who was an esteemed educator with Gates County Schools. The program was made possible by a gift from Morehead Advisory Council member, Stephen Butts, and his wife Addie Butts. The goal is to increase students' science self-efficacy and confidence with STEM disciplines in school and to provide mentoring that encourages students to explore careers in STEM.