September 27, 2022  by Cal Bryant, Roanoke Chowan News Herald
GATESVILLE – What's old is new at Gates County High School.
Thanks to grant funding from several sources plus the vision of local education officials and community organizations, the school's old gym has been transformed into a state-of-the-art fitness facility.
After years of planning and several rounds of applying for the needed grant funding, school system officials and invited guests took part in a ribbon-cutting ceremony on Sept. 16 to formally open the Gates County Schools Athletic Training Facility.
In addition to the new weight-lifting devices and exercise equipment is an "indoor field", a smaller version of the outdoor stadium, complete with synthetic turf, that can be used by athletic teams to practice in case of inclement weather.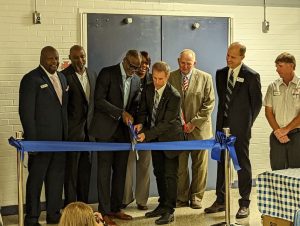 "What a great day it is for fitness," stated Gates County Schools Superintendent Dr. Barry Williams to kick off the ribbon cutting ceremony who then recognized the county's board of education members present. Ray Felton, chair of that board, also gave remarks.
"The fitness facility was truly a collaborative effort of many individuals and groups providing the vision, design, construction and funding to make our fitness facility come to fruition." Dr. Williams stated, "I want to thank so many people, because it takes a team to make things happen and your efforts are appreciated."
Williams noted that the funding for the fitness facility came from grants earmarked specifically for athletic facilities. The sources of the grants were the North Carolina Department of Public Instruction (NCDPI)-Athletics and grants through private organizations specifically written and approved for health and wellness.
He added that because the decision was made to transform the old gym into the fitness facility, savings were realized due to the fact that a new building was not needed.
"A lot of time and effort was put into writing grants to fund this much needed facility," Dr. Williams remarked. "We are very appreciative for the funding and know that many will benefit from this project."
Noted contributors to the project include the Gates County Board of Education, Benjamin Saunders – President of Gates County Community Partnership – the Obici Healthcare Foundation, The Blocker Foundation, the North Carolina Department of Public Instruction, Jeremy Wright – District Athletic Director / Director of Student Services – GCHS Principal Jonathan Hayes, GCHS Athletic Director Jacob Harrell, GCHS head football coach Matt Biggy, Johnny Greene – Director of Maintenance, and the Maintenance Crew – Bracey Perry, Ken Cowper, Randy Lowe, Jesse Matthews, Rowdy Harrell, Carlton White and Lynne Rountree.
He credited Wright, Harrell and Coach Biggy for assisting in the designing/planning stage of the facility. The Gates County Maintenance Department was given high praise for their work in making all the plans into a reality.
"It's been about two years in the making," said Dr. Williams. "At first we talked about doing a metal building. It kept blossoming and blossoming into what you see right here. We converted the old high school gym into an amazing fitness facility that is one of the best high school facilities in the state."
Williams continued, "Most importantly, this is a true example of a variety of groups working together to achieve something great. We are going to continue to be champions, not only for our students but for our staff and community as well to provide a space for a healthier lifestyle."
The new space, with its increased square footage over the old weight room, will allow more students to participate in fitness routines.
"This facility will allow us to double maybe even triple the number of students we are able to safely put in our weightlifting classes," said Hayes. "Several of our staff members have already asked for a tutorial on how to use the equipment. The facility will help our students and staff create a healthy lifestyle."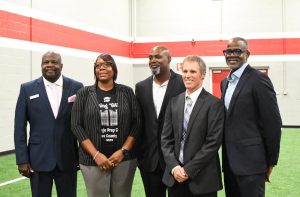 "I am extremely grateful for the amount of support on this project that will benefit our students, athletic programs, and Gates County community. We set out to build one of the nicest facilities in North Carolina and I believe we have achieved that," noted Harrell.
As mentioned earlier, the facility would not have been possible without the assistance of community organizations such as the Gates County Community Partnership. Along with Saunders, other members of the group attending last week's ribbon cutting were Brian Rountree, Sherley Jones, Jr., Sandra Jordan Branch, and Chante Jordan.
Saunders said he reached out to Dr. Williams to share information about the Obici Healthcare Foundation in an effort to see if that organization would financially support the new fitness center.
Saunders said he toured the old weight room at the high school.
"The equipment looked like what we had 30 years ago when I was here and is not conducive to athletic performance. Our students deserve better. We will never be great if we don't figure something out," Saunders said.
Despite the first grant proposal being rejected by the Obici Healthcare Foundation, a second effort was made.
"We had in-depth conversations with Obici and Coach Biggy, Mr. Hayes, working with Mr. Harrell and Mr. Greene, and others in Gates County Schools," Saunders said. "Dr. Williams worked his magic and in January 2022 dreams became reality. Obici Healthcare Foundation agreed to provide the seed funding for the Gates County Schools Athletic Training Facility This space will be a catalyst for improved health outcomes for our citizens and students. It will also advance the level of performance of our athletes with equipment specifically designed for that purpose."
Saunders stressed that the Gates County Community Partnership is all about unity and prioritizes courtesy and respect.
"We don't focus on changing viewpoints; we focus on bonding on a human level," he said. "A community that works together, in love and with good intentions, can do big things. A community that is objective, gives each other the benefit of the doubt, understands that each of us is inherently good; a community that is civil and strives to understand and befriend those deemed different. Nothing is more honorable. Let's be eager to find opportunities to serve, without condition or expectation."