Gates County Community Partnership (GCCP) recently donated $2,000 to Gates County High School to fund college tours for the junior and senior classes. This gift is part of a larger effort by the organization to expose all local students to the value of a college education.
"This donation supports Gates County High School and their efforts to broaden the horizons of our students. We want them all to 'Soar to New Heights' in life," stated Brian Rountree, Vice President of Gates County Community Partnership. "We know that everyone will not go to college, but we want to ensure that all of our students understand the importance of a college education and that it is achievable and affordable. Now, this is even more the case with the North Carolina Promise Tuition Plan."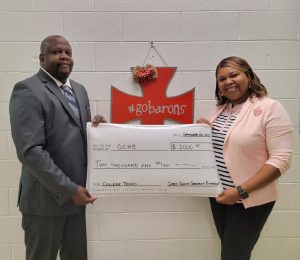 The Association of Public & Land-Grant Universities recognizes that we often emphasize the benefits of a college degree to graduates themselves. The benefits to society are just as significant. Through volunteer work, leadership, and philanthropic contributions, university graduates improve the civic and economic life of their communities.
"We want all of our students to be confident and understand that a postsecondary education is generally now a requirement for a place in the middle class of America," emphasized Sherley Jones, Jr., Director, Gates County Community Partnership. "We also expect them to achieve at the highest level so they can offer their best to others, thus initiating an endless cycle of service and uplift."
In 2020, Gates County Community Partnership assisted Gates County Schools with their successful grant application for GEAR UP NC. This national program is a college access initiative that directly engages students in partner schools with academic readiness and college admission support. GEAR UP NC funds college tours. Gates County Community Partnership's donation expands access.
"We are again thankful that Gates County Schools allows us to participate in programming that supports the edification of our youth," said Sandra Jordan Branch, Director, Gates County Community Partnership. "Thank you, Gates County, for your continued support. Without you, none of this is possible."
Gates County Community Partnership is a 501(c)3 public charity whose mission is to inspire and increase community engagement by the citizens of Gates County for the educational and social development of its youth.